Consistory


The Consistory Degrees are very different from each other in form and content. The 31° reveals the dynamic relationship that has existed for centuries between human law as a means of achieving justice, and divine justice as an ideal. The 32° reviews the degrees of the Lodge of Perfection, the Chapter of Rose Croix and the Council of Kadosh. In it we learn the very ancient roots of Masonic Truth - in the East!

31st degree - Inspector Inquisitor: This degree teaches prayerful self-examination. The mistakes today should not be committed tomorrow. Simply, the daily look at ones self to learn to live with the future. No apron is worn in the Supreme Tribunal, but in inferior bodies, a white sheep-skin apron with a silver Teutonic cross may be worn. The jewel is a silver Teutonic cross. The jewel may be suspended from a white collar, with a gold triangle with a "31" inside it. But in inferior bodies it may be suspended from a golden chain, the links of which form the eight fundamental degrees of Masonry: The 1st, 2nd, 3rd, 4th, 14th, 16th, 18th, and 30th.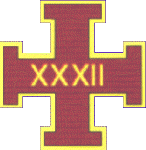 32nd degree - Master of the Royal Secret: The lessons of this degree are that "genuine brotherhood requires mutual regard, opinion, esteem and charity". We always look for the good in all, make allowances for other's short comings. We trust the Supreme Architect to lead us to friendship, morality and brotherly love. The apron is white, lined in black, with a double-headed eagle and a plan of the Camp of the Princes. The jewel is a golden Teutonic cross, with a double-headed white and black eagle in the center.