News
The Clinic Corner – Welcome Aboard, Erin Stauder!

The HEARING AND SPEECH AGENCY (HASA) has been a valuable partner to our Baltimore RiteCare clinic. We've worked together to help children with speech and language needs since 1985. In that time, we've been able to serve thousands of Maryland's children, especially in the Baltimore area. It is an exciting time for both organizations and we are thrilled to welcome HASA's new Executive Director, Erin Stauder, to our team!
Erin Stauder, MS, CCC-SLP is a licensed speech-language pathologist who is currently pursuing a PhD in educational public policy, allowing her to use evidence from the fields of economics, sociology, education, and political science to serve HASA. Erin received both her master's and bachelor's degrees in speech-language pathology from Loyola College in Maryland. While serving as a clinical faculty member at her alma mater, Erin managed inter- professional teams, coordinated programs, and established relationships with community partners and charitable foundations.
While working as a university clinical faculty member, Erin supervised a diverse caseload that included non-verbal toddlers with autism and middle school students with language and literacy challenges. She was recruited to write articles for the ASHA Leader and the ASHA Leader Blog. She has also published articles in scholarly journals. Erin taught 400-600 level coursework related to speech and language typical and atypical/delayed development. Erin has worked in special education schools, early intervention settings, and in acute care pediatric settings (including the Neonatal Intensive Care Unit). She was a clinical faculty member at both Loyola University Maryland and Towson University.
Erin was a previous member of the Executive Committee for the State Interagency Coordinating Counsel for Infants and Toddlers in Maryland and is a current member of the Advisory Board for North Bend Elementary/ Middle School in Baltimore City. Erin is a member of the American Speech-Language-Hearing Association. In January 2017, she became a Professional Member of the National Academies of Practice (NAP) of speech-language pathology which recognized her as a leader in inter-professional healthcare. The NAP works as an "interdisciplinary force to influence national health policy, legislation, and promote quality healthcare through cooperative advocacy, practice, education and research."
We enjoyed Erin's February visit to our clinic where she met with staff. Please join me in welcoming the newest member of the extended Scottish Rite family!
Thank you all for your ongoing support. As always, you are invited to visit the clinic anytime. We wish you and your families a great start to the new Spring season ahead!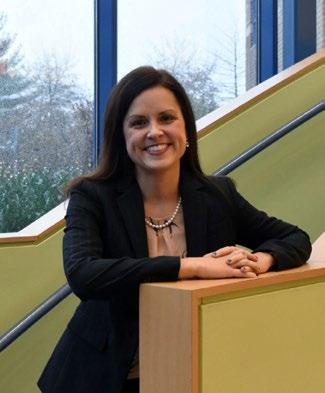 Erin Stauder, MS, CCC-SLP,
HASA's new Executive Director