S.G.I.G.'s Message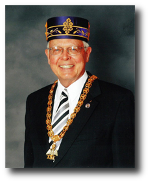 Greetings to One and All,
As I pin these comments, it's cold and rainy with a forecast of the same for days ahead. Yet spring is a beautiful time of the year. Nature paints the colors of the rainbow everywhere you look. Trees, flowers, and grasses all show the magnificent art work of our Great Creator. A new fresh start!
I suppose our Reunions could be much the same. New men, each with fresh ideas from all walks of life, and yet none the same. Each seeking personal growth from the many avenues The Scottish Rite has to offer. Some will find the rays of a friendly face and be encouraged to take root and find their place to grow with their family and friends. Others may need a bit more attention before feeling comfortable. If left alone and unattended, the draught of feeling unappreciated will cause them to fade away and soon disappear. A loss from the garden we are trying to grow: our membership. It is a loss, not only for the Valley and the Orient, but a loss to the member who came hoping to learn, grow and become a part of something he envisioned would meet his ideals and expectations. I hope that when you see a nnew face in your Valley, you will take a moment to stop and say hello. Introduce yourself and the Brother next to you. Don't let a man sit alone in your lodge or banquet hall. Go over and join him. Welcome him, offer him a soda or coffee, listen to him, find out why he is here, what does he hope to find or do. Then, help him become a part of the evening or event. If left alone, he will leave alone. He may feel neglected and never return. If you read the Grand Commander's message in the last Scottish Rite Journal "Almost Smelling the Sawdust", our Grand Commander wrote "we need to be attuned to the men of this day and age and adapt the Scottish Rite to their needs and expectations".
We can grow our Scottish Rite if we take the time to care for our members, attend to and adapt to their needs and make everyone feel a welcomed part. I encourage you to invite a brother or a friend to one of your events. It is a perfect opportunity to show he and his family a small portion of this wonderful Fraternity.
Now, much like the summer, by the time you receive this issue, summer will be drawing to a close and a new Season will be beginning. Fall will bring a new Reunion, an Honors Celebration and a new crispness that reminds us all that a change is in the air.
Our Traveling Degree Team from Susquehanna Valley will be taking the degree work on the road to meet new members, in new areas of our Orient. This is a change from the norm as twelve new Scottish Rite Masons will be welcomed from Denton, Maryland and the surrounding area.
I look forward to welcoming these and many other new members as well as each of you as I travel across the Orient. Now, may I wish eachof you the blessing of good health and much happiness now and always.