S.G.I.G.'s Message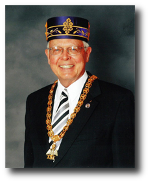 GREETINGS TO ONE AND ALL,
I hope this issue of our Rite News finds you well and enjoying the waning days of summer. I also hope that you have had a wonderful time with family and friends as we plan for our fall activities. When we think of family and friends, it's hard not to be concerned about the level of violence and discontent that seems to engulf our nation and affect our daily lives. If we don't think that at least a part of what we are seeing is a cultural problem, then we are only kidding ourselves. Our politicians and leaders seem to thrive on degrading everyone around them who might have a different opinion. Ethics and integrity have been cast to the wind.
Almost every male reader of this magazine has heard "I will not cheat, wrong, nor defraud... Speak evil of his good name, or that of his family; nor suffer the same to be done by others if in my power to prevent." These words are repeated time after time under oath. To degrade an individual for whatever reason is wrong. Sometimes our emotions get the better of us and we do and say things that hurt, not only the individual, but his family, friends, and those close to him.
Don't we all wish our politicians and leaders could hear and heed the words we repeat so often? Honesty and integrity are the foundation of leadership. Great leaders NEVER compromise their honesty or integrity. We have all seen the words, "integrity means doing the right thing, because it is the right thing to do." To wrong someone is never the right thing to do. It seems to me that many of our politicians and leaders have forgotten about integrity and honesty. There should be no exceptions made for honesty and integrity. Leaders with integrity always err on the side of fairness, especially when being pressured to be unfair. As a matter of fact, the true mark of leadership may be just how fair you can be when other people are treating you unfairly. Aren't we, as members of the craft, fortunate to have the lessons of our Lodge and Rite to challenge us to keep our passions within due bounds. If we live out the tenets of Freemasonry in the world, we can provide an example of a better path to those around us.
I hope to see you all as we kick off our fall activities, especially Basket Bingo on September 30th, one of our biggest fundraisers for the Clinic. Enjoy the rest of your summer and may I wish each of you the Blessing of good health and much happiness always.
Sincerely and Fraternally,