S.G.I.G.'s Message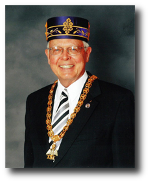 Greetings to all,
As always, I hope this issue of The Rite News finds you all well and ready for summer. I just heard, on the weather report, that the temperature is going down into the single digits tonight. Writing these notes sure has a way of making time fly. Our Spring Class and lodge meetings are now history. I want to extend my sincerest Thanks and Congratulations to everyone who helped. Regardless of the office you hold, or the part you took, nothing could have been accomplished had it not been for your efforts.
I welcome our newest Scottish Rite Masons all across Maryland. I invite you to think of the messages that were a part of each degree you witnessed and come back and get involved. It is your Scottish Rite.
Our Valley Membership Achievement Program (VMAP) was designed with you in mind. There are new ideas and activities for you to consider being a part of. These ideas come from men just like you from all across the United States and all walks of life.
There is nothing hard, demanding, or mandatory, you just need to show up and be a part of your Scottish Rite Valley. There are now six growing Valleys. Susquehanna Valley recently petitioned for a Charter for their Chapter of Rose Croix and Frederick is ready to begin their Council of Kadosh. As in your blue lodge, you are always welcome to participate or just visit. Speaking of visit, why not visit our web page at www.MDSCOTTISHRITE.org and view the many, many, things happening throughout the great Orient of Maryland. Our Lobster Fest on August 5th is an event not to be missed. Make your reservations Now- NO TICKETS ARE SOLD AT THE DOOR!
Invite a brother or a friend who may or may not be a Mason. This is a perfect opportunity to show him a part of our wonderful fraternity. You may be surprised when he asks – "How do I become a member?"
In closing, I hope each of you have a terrific, safe and healthy summer and I look forward to seeing you all soon.
Sincerely and Fraternally,