S.G.I.G.'s Message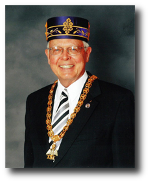 GREETINGS TO ONE AND ALL,
I hope this issue of our Rite News inds everyone well and looking forward to the end of winter; I know I am. I love spring and summer, a time for new reunions and bringing you, our members, together again.
In an age of "disconnection", the Scottish Rite ofers a rare opportunity- the chance to connect with others for a common purpose; to build and strengthen ur Masonic family while enjoying friendships, old and new. e need both, now more than ver before. Clubs, civic organizations, churches, and, yes, ven our fraternity, are seeing ot only a reduction in growth, ut in attendance as well.
American families are getting smaller. he average family now has only two children. riendships and introductions nto social groups usually come hrough families, so smaller amilies lead to a loss of connections in all walks of life. People today also commute longer distances to work and spend more time indoors than ever before. Smaller families mean fewer children in the neighbohood playing together and fewerchances to form what are often lifelong friendships. We are becoming more isolated than ever before. This is a very sad state of afairs, we are locking ourselves out.... but you have the key...
Open the door at any Scottish Rite Valley and you will ind a warm welcome. Families having fun enjoying each other's company and more often than not, good food. Friendships are made that will last a lifetime. You can invite a neighbor or a friend to join in at many of our activities and perhaps end up with a new Scottish Rite member.
As a member, you can witness many new degrees that you have probably not seen in years. You may even get excited enough to get involved in the degrees, or one of the many crews that are involved in putting on the degrees. Friendships made while working toward a common goal last a lifetime.
Visit your Scottish Rite Valley. Reconnect with old friends and establish connections with new ones. You can make a diference in a world of disconnects. You will be glad you did.
In closing, may I wish you and your family the Blessing of good health and much happiness in all that you do.