S.G.I.G.'s Message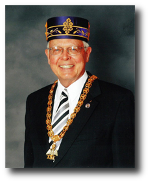 Greetings to all,
I hope this issue of your Rite News finds everyone well and that winter has not been too bad. Only a few more weeks and SPRING!
Before I spring into the many upcoming activities happening around Maryland, let me begin by Congratulating and Welcoming our New Scottish Rite Brothers and their families from the historical One Day Class- Fall 2016. I sincerely hope that you will return to your Scottish Rite and become a part of the many things that the Rite has to offer. There are six Valleys in Maryland and you are welcome and encouraged to visit any or all. Each Valley is unique in its own way yet friendly to all who enter.
I must also send a special Thank You to each man who signed a petition, attended the reunion with his petitioner, sat on the sidelines, helped anywhere in the day's events or participated in the degrees in addition to all those who worked "behind" the scene. You made things happen and you made the day enjoyable and successful for all.
Now for 2017, come back and see what is in store. The Lodge of Perfection resumes in February followed by the 2017 Class Orientation on March 15th. Each Valley will follow a similar schedule and I invite you to visit for fellowship and further insight on The Scottish Rite programs throughout Maryland. Dinners, Ladies Night, Bingo, the Lobster Feast, picnics and festivals all across The Orient await. All you have to do is enjoy.
As I visit each Valley, I hope to see you there. It is always a pleasure to say hello and welcome! I have every faith that, if you get involved, you will find that beacon of light that you will want to follow and others will follow you.
Now, may God Bless each of you and your families as we begin a new year. May the Blessings of good health and much happiness follow you always.
Sincerely and Fraternally,