S.G.I.G.'s Message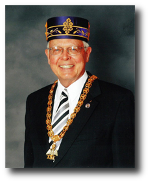 GREETINGS TO ALL,
Wow, it's inally here; summer and warm weather! I hope you are all well and ready for summer vacation. Any vacation, be it going to the beach or just to a local park for a picnic—family time. A time when we slow our Masonic activities. Just a brief time when we are not rushing home to change clothes, grab a quick bite and tell the family "I'll be home shortly... if he doesn't talk too long!"
Whatever you do this summer, make time for family. We all know in this day and age family time seems harder and harder to come by. Do your children spend more time with their friends than they do with family? I think our children value any time they spend with their parents as a premium. Many parents don't realize how important their time is to a child. Just talking (and listening) to the child about their interest, their problems, or just letting them chatter with a parent builds trust and a connection. hey learn how to treat others from the way they are treated at home. hey need to learn respect, manners and behavior from family or they will learn it from their friends on the street. Family time is important.
This got a little of track! Where was I heading? Oh yes, summer vacation!
Whatever you do this summer I hope you have a wonderful time with your family. Go somewhere if possible; perhaps a weekend of camping, hiking, and sightseeing at some of our beautiful parks (local, state, and federal). Maybe a ishing trip or going biking. Maybe even take the kids to church. I was at a funeral recently and I heard a youngster ask his mom "what is a prayer for?" Just makes you wonder...
In closing I hope each of you and your families have the best summer ever, illed with memories that will last a lifetime. Whatever you choose to do, I wish you the Blessing of good health, safe travel, and much family happiness.