S.G.I.G.'s Message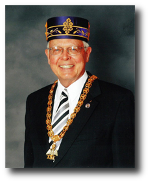 Greetings to All,
I hope this issue of our Rite News finds everyone well and reflecting on a wonderful summer that is now history. Cool weather has signaled that winter is rapidly approaching.
I want to extend my sincerest congratulations to our newest Honourmen. New Knights Commander of the Court of Honor, new Inspectors General Honorary, and a new Grand Cross who were all honored in Baltimore. The celebration concluded with a four course banquet. I want to say thank you to all those who participated in the degrees and assisted in the many different areas that make things happen! You all did an awesome job; one that made the day memorable for all who attended. These new caps may never be asked for. They are never given freely, each is earned. On behalf of all our Scottish Rite members, I extend my sincerest thanks and appreciation for the time, energy, and dedication you have given to our gentle fraternity. A new cap is not the end of your work, but the beginning of new expectations. It means new leadership for each Valley, new ideas, visions, and new responsibilities. We must also thank the ladies of each new Honourman for sharing their time.
Speaking of time, classes and degree work are under way for our Fall Reunion on November 4th. It is not too late to bring in a new Scottish Rite Member. Who knows? You may bring in a future Honourman. The Feast of Tishri will be conducted on Wednesday November 15th. Whynot bring a friend and help celebrate the harvest and take home a bag of fresh fruit. Plans are underway for the annual Christmas Program on December 10th at 2:00pm. Brother Bob England and his Lady Jo Ann are working furiously on the train garden. If you would like to help or have any trains or train parts, your time or donations would be very welcome. As you can see, the Orient of Maryland has a lot going on this year.
Congratulations are in order for both Susquehanna and Frederick Valleys. The Supreme Council just issued a new charter for the Deer Creek Chapter of Rose Croix, and Frederick has been issued letters temporary for their new Council of Kadosh (with rumors that a consistory might not be too far away...)
Now, may I wish each of you a bountiful Thanksgiving, joyous Christmas, a prosperous New Year, and the blessing of good health and much happiness; now and always.